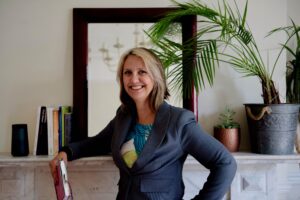 Sam Parsley is a Business School Professor who began interviewing DJs about their working lives back in 2014. She quickly realised two things: (1) that producing your own tracks was a major source of competitive advantage for the modern-day DJ and (2) music production was a very male dominated world. The project therefore evolved to investigate the career experiences of women producers of electronic music and In the Key of She was born. In 2022 she renamed the initiative to In the Key, dropping the pronoun 'she' to include gender expansive artists too. 
Sam has seriously immersed herself in the electronic music industry since 2018 as an ethnographic research strategy, although she's been a lover of electronic music since her teens, and a committed clubber for many years! Now a DJ herself, she's been learning to produce (and release) music since 2019 to gain insights about the world of production from the 'inside out'. It has also helped in understanding the issues experienced by the many women and non-binary artists she has built relationships with. To date Sam has carried out around 75 in-depth interviews with producers and other industry gatekeepers, around half of which have been edited into the In the Key podcast to share these inspiring stories with the world. You can find blog posts, articles and publications from the project on this website, and a full project report is coming soon. An engaging accessible book written from the project data will also be published over the coming months, and you can follow the project socials for details of when/ where Sam is next speaking about gender issues in electronic music.
The project has been supported by University of Portsmouth and The Leverhulme Trust allowing Sam to continue this work researching, writing and speaking about gender imbalance in the electronic music industry, platforming gender expansive creators and working towards a fairer, more diverse industry. She is a Co-Chair of the Association for Electronic Music and regularly speaks at music industry events, working with industry partners to raise awareness and visibility of women, trans and non-binary artists and to help labels, promoters, music tech companies and other music industry diversify their rosters, events and offerings.