Jacki-E (aka Jacqueline Palmer) has just won herself a residency at Liverpool's techno club-night Mono in a live DJ competition. That takes guts by anyone's standards but is an especially brilliant achievement for a woman, since all the other contenders were young guys, and men still dominate behind the decks and in electronic music studios. It's even more fantastic when you know that Jacki-E is in her mid-60s and took up DJing just a few years ago when she retired from her role in purchasing for a multinational car firm. From mixing tunes in two YouTube windows open on her computer (!!), she bought herself a controller and bagged herself a weekly radio show 'A Darker Wave' with her husband Paul within a year, followed by another show 'Draw the Line' in 2018. "Age should have absolutely nothing to do with whether you are a great DJ or not" she told me when I had the pleasure of interviewing her for the ItKoS project a few weeks back. She's right, of course, and while we need to be careful not to patronise older artists, or treat them as novelties, it IS still a fantastic achievement to be beginning a career as a DJ and producer in your retirement – when so many of those around you are 'winding down' by heading off on cruises or pottering about in their gardens. In a world where age discrimination is all too common – especially for women – it was great to hear that Jacki-E has been welcomed by promoters and dancefloor crowds alike, receiving a great reception wherever she's been.
She's also been steadily building a catalogue of her own tech-house and techno remixes and tracks, working with (among others) Maya Stone's 'Deep Down Dirty' label and artists including The Sloane Ranger and The Kid Inside. And as I'm writing this, she's playing in Berlin at MeetUp Berlin's summer special. Jacki-E is living proof that age really is just a number.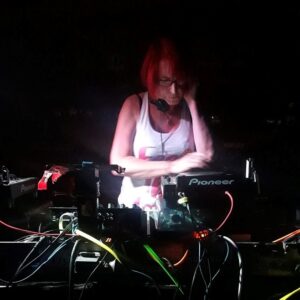 Jacki-E at MeetUp Berlin, Aug 2019. Photo credit Ledi Maru
Jacki-E's weekly 'Draw the Line radio show' (Radio Flintshire/ House Nation Toronto) is THE place to discover new female talent in the techno, tech-house and related genres. In the track-lists for the last four weeks of shows, I have counted over 80 different female producers (yes, 80) which certainly lends some weight to Jacki-E's gut feeling that statistics are grossly under-estimating how many female producers there actually are. 
Jacki-E first came onto my radar through a Facebook post on the RedBull Normal not Novelty Network group – a thriving and supportive community of over 1800 women in electronic music of all genres. The post was advertising her new show in which she plays an hour of music by female producers, followed by an hour's guest mix from a female DJ. Now if you've been paying any attention to gender issues in the electronic music industry (and as you are reading this post I'm going to assume you have), you'll know that there are a lot more men than women listed on gig and festival line-ups, especially in the main rooms and stages, and as headliners. You'll also probably know that from looking at the charts on major music retailers, only a tiny proportion of electronic music tracks seem to be produced by women, female identifying, or non-binary artists. After all, that's why I am doing this project. So how is that this one-woman musical whirlwind manages to find enough tracks to put out a 2 hour radio show full of content produced by women every single week? 
Firstly Jacki-E told me that you have to dig deep and be prepared to follow the trail that leads to the ladies. Articles on female artists, gender issues or up and coming artists in Mixmag, DJ Mag, and interviews on Resident Advisor (among others) are good places to start as they usually name check a bunch of women you might not have heard of. Next, there are the social media groups where women hang-out. The Redbull Normal not Novelty Facebook page I mentioned earlier is a great one, as is Rhythm Sister, She Said So, SISU Crew, Womb 2, Soundgirls, Toolroom's 'We are Listening' academy… if you need an all-female collective anywhere in the world, really, you just have to look. Luckily, some wonderful person has drawn a map to some of these groups which SheSaidSo posted on their Facebook page. And once you're on their socials, you just have to post asking 'Who's the smokin' female talent I should be playing? Send me links to your tracks!' and you're off. Another useful route is to trawl the DJ Charts on Juno and Beatport – look for the non-male looking people and names (actually harder than it sounds!) and see whose music they're playing. If they aren't producers, chances are they'll still be recommending a track here and there by a woman, so follow that artist and see where she leads. I've spent many a happy hour doing this and am slowly balancing my crates with a more diverse music collection – often from racially varied and queer artists too. And as DJs, as we vary our musical sources, we vary our sets and that's when we start to get a really special sound. Because, as Jacki-E and I discussed, even those of us championing the visibility of women's music are not immune to our biases, especially when, for whatever reason, all that is presented to us in the record stores is music made by guys. I played a set 'off piste' at a festival recently, and when I looked back at what had actually made its way through the decks, there was only one track and one remix by a woman in 90 mins of music! It was a wake-up call to me that that's going to happen all day long if most of the music in my playlists is made by men. Because I actually don't want to play music that is defined by gender – apart from when I am deliberately showcasing women's music for an ItKoS mix, for example. Ultimately I want to play a set that is structured by groove and flow and energy and all those other good things that make people move. But I also want to raise the profile of women who make gorgeous tunes and I believe that the best way to do this is to play their tracks in regular, everyday sets, without saying 'Hey look! 8 of these are by people who aren't men'. And the only way to do that is to make sure you have enough female ammunition to draw out of the bag without having to actively look for it. Only then is it really the music speaking for itself, which I think is probably everyone's goal. If the music is good, folks will find it in the track-list, or with a shazam tag and well, shazam! They've discovered a female producer and we are one step closer to equalizing things.