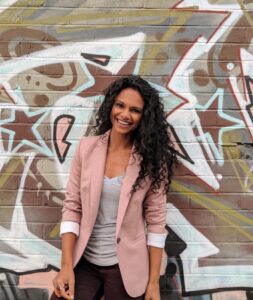 Xylo Aria, producer, singer, songwriter and founder of MPW
Xylo Aria is a singer, songwriter and producer based in Melbourne. Australia. She's the driving force behind MPW – a development resource and community for women who want to learn how to produce their own music. Xylo was one of my first guests on In the Key of She, in 2019 when she'd just set up MPW, and I caught up with her the other day, as the company turns two this month! From an online 'Introduction to Ableton' training course and a couple of Meet-Ups in 2019, MPW has grown into an international social enterprise, with a team of three staff, and over 2,700 followers on Facebook. As well the original course, MPW run masterclasses, puts out an expert podcast series, has a YouTube channel with over 1000 subscribers featuring content created by the community, has over 8660 followers on instagram and provides monthly zoom calls and support to members, alongside opportunities for industry feedback on their tracks. As if that wasn't enough, in collaboration with Liina Turtonen of LNA Does Audio Stuff, Xylo has recently produced a short film called In Control which follows the journey of complete novice Hannah Coombes as she learns to produce her own track. Filmed at Abbey Road Studios in London, we see Hannah getting to grips with DAWs, sound design and mixing, and sharing her fears and then pride with the camera. It's a joyful, touching 12 minute watch. You can buy the result – her beautiful track 'Good Life' – on Bandcamp.
Xylo founded MPW so that other women didn't have to go it alone when learning to produce. Fed up with being messed around and at the mercy of (usually male) producer's erratic schedules and questionable intentions, Xylo decided to take back control of her music by learning to produce herself – "I wouldn't describe myself as techie at all", she told me during our interview, "it was such a steep learning curve and I founded MPW so that other women wouldn't have to go through the same pain I did". Having taken the course myself I can absolutely vouch for the clear, reassuring and friendly way Xylo teaches, demystifying what can seem like a 'dark art'.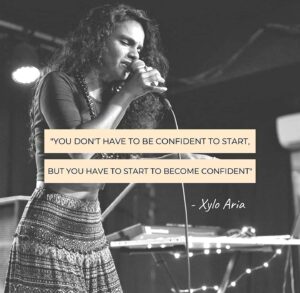 But why do women need their own dedicated space in which to learn music production? Much of the time, women need music tech education that goes right back to basics, unpacking terms and ideas that men seem 'naturally' to be more familiar with. But it only seems that way because of how they've been brought up, and the activities they've been encouraged to get involved with. These guys have often been tinkering with software, and music tech since their teens, and even if they haven't, the very concept of technology is 'masculine-coded' in itself.  In other words, we associate technology and 'geekery' with what it means to be male. These technologies are designed and used by men, and that's generally what we see in the media too. Being proficient in technological matters supports men's identities, but being tech-savvy contradicts traditional ideas of what girls and women do. These ideas persist because they are deeply held through stereotypes and unconscious bias which is reinforced by the fact there aren't many female music producers (not visibly at least) and so the cycle continues. When it comes to music tech, as a woman, you're not only an outsider, but you transgress unspoken gender norms too. I don't think it's a coincidence that a large number of the producers I interviewed for In the Key of She described their childhoods as being quite 'boy-ish', often telling me they weren't 'girly girls' when they were growing up, and that they had parents who encouraged them to do 'boys' things'.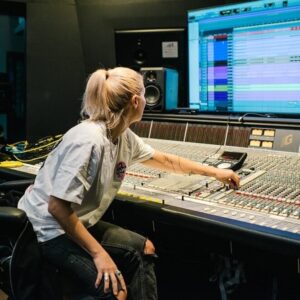 Jane Arnison, sound engineer, and MPW tutor, at her mixing desk in Berlin
Being the only female (or one of very few) in a class full of guys was common across all the interviews with producers I've done for In the Key of She. It's an uncomfortable feeling to be the only one in the room, causing you to question why you're there, and more importantly whether you deserve to be there. Being a minority is lonely – you might not find your tribe  easily, and it can be harder to forge the networks that further your learning, and your career. In my research interviews, women often reported being disillusioned on discovering that guys were only interested in collaborating with them if they thought a date (or more) was on the cards. So having an all-female space in which to learn takes that pressure off, helps women female safe, enables them to grow in confidence, and allows them to make mistakes or ask what they might see as 'stupid questions', without losing face.
To find out more about MPW, become a member, sign up for a course, or attend a workshop, visit the website, and follow the MPW Facebook page, Instagram feed or YouTube channel.