Sisu is a community providing a platform to educate, inspire and showcase aspiring women, trans women and non-binary DJ's and producers. 
"To the Finnish people, sisu has a mystical, almost magical meaning, that can be roughly translated into English as strength of will, determination, perseverance, and acting rationally in the face of adversity…" www.finlandia.com
I used to think the name stood for 'Sisters in Sound Unite' which would have been pretty cool to be fair, but the real meaning behind the term is quieter, and more reflective of what Sisu does – just knuckling down and getting on things that make a real difference. Although coordinated by a core team of women from the UK, the collective is international, with members from Brazil and China, and collaborations with groups in Berlin. Since I joined Sisu two and a half years ago, I've seen it go from strength to strength. In the Key of She's radio shows are aired in collaboration with Sisu on Threads Radio, I learned to use CDJ's at a Sisu DJ course (as opposed to laptop and controller) and I've been a core Sisu DJ for over a year now. Our youngest members are in their twenties and we span the generations right up to people in their sixties. Inter-generational sharing is a wonderful thing, and with so much emphasis on youth and 'young talent' in the music industry (not to mention outright censorship of older women in media and entertainment) it's probably one of the things I love about Sisu the most.
As well as running DJ courses for womxn and non-binary folks, putting out radio shows and acting as a booking agency for the core DJs, Sisu has a weekly mix series, publishes themed podcasts, and hosts skillshares, and meet-ups for its members online. One of Sisu's last residencies before the Covid pandemic was the prestigious 'Concrete Lates' series at London's Southbank Centre, and with a range of merch launched (as featured in DJ Mag!) and plans to expand the educational arm of the collective around younger girls through outreach to schools, Sisu is most definitely living up to its Finnish definition. Persevering rationally through will and determination in the face of adversity. The latest virtual project is this brilliant video by the Sisu Creative Team* which premiered on Sisu's Instagram feed on International Women's Day this week, featuring vox pops from Sisu members with a soundtrack from Suzanne Ciani's Buchla Concerts, and images of the great femxle pioneers of electronic music – Wendy Carlos and Daphne Oram. (Read more about the forgotten femxle history of electronic music)
With several high profile women now appearing among the DJ glitterati, such as Honey Dijon, Charlotte de Witte, Nina Kraviz, Maya Jane Coles and Peggy Gou it's tempting to think we've seen the back of gender discrimination in electronic dance music and that womxn wanting to DJ and get into electronic music industries don't face adversity. But 71% of festival acts are still men, and only 6% of those playing in the world's top 150 A-list clubs are femxle. Disappointingly, the position is just as bad at grass roots level with many underground festivals and events including only one or two women (at best!) among an otherwise white male line-up. I'd like to name some names, but frankly, there are so many I could list, and the personal attacks that ensue when you try to call these bros out takes a real emotional toll, and very little seems to change. 
And that's where Sisu comes in. There are many collectives, all over the world, each with their own mission and mojo, but united by a common aim to raise the visibility of under-represented groups and provide safe havens for minorities to learn, grow, get strong, and have fun together. Sisu recently surveyed everyone in the collective and a sense of friendship, support, fun and like-mindness was one of the most important impacts of being part of the crew. Intangible, yes. Hard to quantify, yes. Insignificant? No. Despite all the other more 'headline grabbing' impacts of Sisu (bookings, festival stages, providing access to equipment, training countless womxn in DJ skills, etc etc…), it's this fundamental sense of being part of the gang that's the most important. Feeling you belong is a basic and universal human need that supports everything we do – you can't build a palace on uncertain foundations.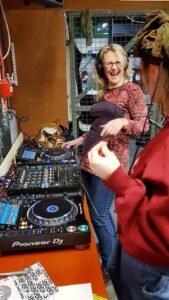 This is what helps womxn, people of colour, queer, trans and non-binary folk to re-learn the courage and confidence to go out into a world that's taught them they're not welcome. Trolling, patronising, sexualisation, ridicule, undermining, and even unintentional comments by well-meaning supporters don't just erode confidence over time, they can batter it down in minutes. Because no-one is born with a lack of confidence – it's something that's trained out of anyone who's a bit different, or lives as a minority. By the time we are 7 years old, we've already learned our place in the world and for women, that's to be a good girl, be pretty, cute, quiet, homely, and basically all the things that mitigate against us racing into the limelight, playing with tech, and putting ourselves centre stage. 
Anyone else grow up as a 'bossy, show-off', 'diva', or 'bit of a handful'? Good! – we need you! To find out more about Sisu, to book a Sisu DJ, or get involved, visit the Sisu website, follow us on Facebook, Soundcloud, Mixcloud, and instagram
*Video credits: Sita Shah, Soraya Stanley, Nadiya Taylor and Melissa Kains who worked on the concept. Edited and produced by Nadiya Taylor from self-made clips provided by Sisu members (2021)